University of Life Sciences in Lublin
Uniwersytet Przyrodniczy w Lublinie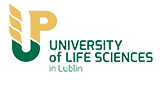 The University of Life Sciences in Lublin is a multi-profile higher education institution, which integrates a wide range of agricultural, biological, veterinary, technical and socioeconomic sciences.

The University conforms to the principles of the Bologna Process and provides education in each of the three stages of study. It also conducts postgraduate and refresher courses.

There are more than 10 thousand students in full-time and part-time studies of the first and second cycle of studies as well as comprehensive master's studies. The educational offer includes several courses and specializations. The number of university graduates has exceeded 60 thousand.

The 65-year-old activity of the University has shown its high rank in the structure of the Polish higher education system.

The University of Life Sciences in Lublin offers studies in the following Faculties:
- The Faculty of Agrobioengineering
- The Faculty of Veterinary Medicine
- The Faculty of Animal Sciences and Bioeconomy
- The Faculty of Horticulture and Landscape Architecture
- The Faculty of Production Engineering
- The Faculty of Food Science and Biotechnology
- The Faculty of Environmental Biology

The constant development of international cooperation of the University has resulted in a large number of partner institutions outside Poland. International agreements with different countries enable University involvement in research as well as educational and academic exchange.

The University collaborates with more than 100 partner universities within the Erasmus Plus Programme. Each year, more and more students participate in internship and training programmes. Academic staff take part in staff training abroad and visit partner universities to conduct student courses.

The University cooperates with a number of universities under bilateral agreements.
Facts & figures
· 65 years of tradition
· 70000 graduates
· 8000 students
· 5 dormitories
· 40 programmes of study in Polish
· 12 programmes of study in English
· 20 sports sections
· 380000 books and magazines in the main library
· 34 buildings of the educational and research base
· 120 Erasmus+ programme contracts
Contact
University of Life Sciences in Lublin

Full degree studies in English
Rector's Proxy for international education
Professor Krzysztof Golacki
+48 81 531 97 56
e-mail: krzysztof.golacki@up.lublin.pl

Admissions Office
Communication and International Exchange Department
Akademicka 13, 20-950 Lublin, Poland
tel. +48 81 445 66 91
e-mail: admission@up.lublin.pl

Information for candidates from Ukraine, Belarus, Kazakhstan
e-mail: rekrutacja.ua@up.lublin.pl
tel. +48 81 445 66 91