(20 July 2012) Mobile application of the Study in Poland has been developed to help foreign students find out what can they study in English in Polish universities. Thanks to the mobile technology potential international students may now easily access information on over 350 programs thought in English in over 40 best Polish universities. The application is available free at App Stores all over the world.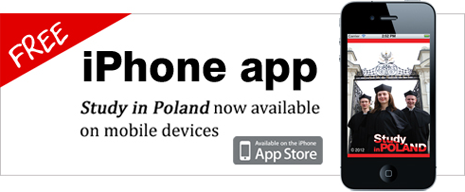 The Study in Poland in English is distributed by App Store on the iOS platform (iPhone, iPad, iPod Touch) used by 400 million owners of mobile devices. The application for the Android system will be available in October.
The Study in Poland mobile application has been prepared with the help of universities participating in the Study in Poland program run by the Conference of Rectors of Academic Schools in Poland (CRASP) in cooperation with the Perspektywy Education Foundation.
The App Store on its website promotes the new application in the following way: "Poland is an attractive new European educational destination. Study in Poland will help you find the study of your dreams in the country of Madam Curie, Chopin and Copernicus. Highest quality teaching, great study atmosphere and affordable tuition – these are some of the main advantages of choosing Poland as study destination. Make the right choice!"
More information: This email address is being protected from spambots. You need JavaScript enabled to view it.