Jan Dlugosz University in Czestochowa
Uniwersytet Humanistyczno-Przyrodniczy im. Jana Długosza w Częstochowie
address
4/8 Waszyngtona Str.
42-200 Częstochowa
phone
+48 34 378 41 00
www
www.en.ujd.edu.pl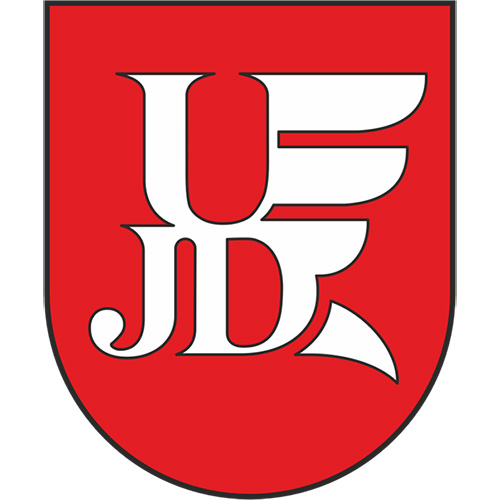 Jan Dlugosz University in Czestochowa (JDU) is a public institution with nearly a 50-year tradition. It is one of the largest public universities in the region, with highly qualified scientific and didactic staff.
Presently JDU has six faculties: Faculty of Humanities, Faculty of Science and Technology, Faculty of Social Sciences, Faculty of Art, Faculty of Law and Economics and Faculty of Health Sciences. JDU has educated students and doctoral candidates in over 30 fields for bachelor, master and doctoral studies. JDU is entitled to grant doctorate degrees in chemistry, physics, history, linguistics literature, fine and musical arts.The Faculty of Philology and History is certified to grant doctoral habilitation in the field of history.
JDU is a fast expanding educational place. It collaborates with numerous scientific centers in the world. Efforts involve actions undertaken in developing scientific and research infrastructure, assuring modern didactic base, exploring new areas of research and realizing international projects.
Students and staff have the access to up-to- date infrastructure e. g. multimedia lecture halls, sports center, language laboratory and even a planetarium.
Knowledge – Lifelong and Lifewide Learning
With those in mind who anticipate changing their employment or intend to continue their education after receiving the diploma, JDU has prepared an extensive proposal of post-graduate studies and courses. These include a bachelor's degree and are open to everyone.
Cooperation – International Projects
JDU has signed bilateral and inter-institutional agreements with academic and scientific centres in the world. The collaboration is also based on the mutual realization of projects that include Erasmus+.
JDU For Everyone
JDU is a place open for the education of different age groups. The The University of Young Explorers provides educational activities for the youngest. The elderly community presence is ensured at JDU thanks to an actively working University of the Third Age.
Sports at JDU
The accomplishments in sports at JDU are a source of our pride. A large part of the success is due to the participation of students involved in various activities at the Physical Education and Sport Centre led by the Academic Sports Centre.
Students – Academic Life
Academic life at JDU is taken care of both by the Staff and the Student Council. It is connected with helping the incoming students settle down comfortably and supplying them with necessary information. An important part is to participate in the annual student carnival Juvenalia. Students from abroad can take part in various scientific activities organized by the Faculties.
Faculty of Humanities – Why to study
The Faculty provides:
research-led environment to tackle global challenges & expectations;

intensive internship programmes with hands-on training & courses;

international educational experiences through exchange programmes, guest lecturers, innovative teaching & learning approaches: virtual interactions, distance learning;

global experience of the Summer School of the Polish Language & Culture;

modern and easily accessible facilities.

dual studies
Faculty of Science and Technology – Why to study
The Faculty provides:
highly qualified academic teachers with considerable scientific achievements;

professional and modern laboratories equipped with new generation equipment available for students and staff;

curricula connecting modernity and the teaching tradition, the traineeships in industrial and scientific centers in the country and abroad;

lectures with foreign visiting professors and specialists from around the world;

modern teaching methods including a personal academic tutoring system and double diploma programs in cooperation with foreign universities.

dual studies
Faculty of Law and Economics – Why to study
The Faculty provides:
a wide range of

scientific circles, conferences and projects;

extensive international cooperation with academic centres around Europe; - solid base of theoretical knowledge and practical skills;

solid base of theoretical knowledge and practical skills.
Faculty of Health Sciences – Why to study
The Faculty provides:
studies in two-cycle and/or long-cycle systems in 2 modes: full-time and part-time;

highly qualified teaching

and training staff;
solid foundational knowledge and professional skill sets.
Facts & figures
Founded in 1971
680 academic staff
5000 students
Long-lasting tradition of international exchange: students and staff – universities from all over Europe
The Jasna Góra Monastery (Luminous Mountain) in Częstochowa is a famous Polish shrine to the Virgin Mary. By many the monastery is called the spiritual capital of Poland
The city location – south-central part of Poland – convenient communication links to other European capital cities
Jurassic Highland – the geographic region where Częstochowa lies – abounds in picturesque sights available to see and experience