Adam Mickiewicz University, Poznań
Uniwersytet im. Adama Mickiewicza w Poznaniu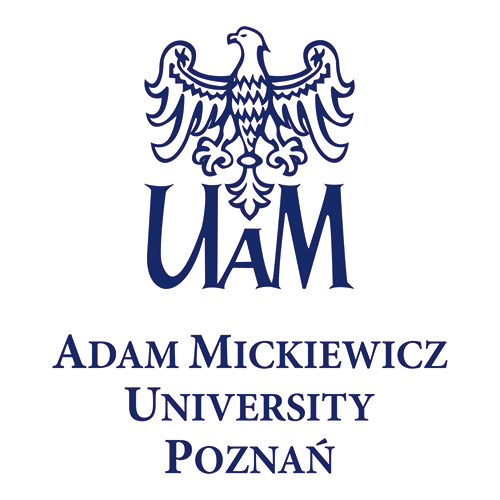 AMU is proud to bear the name of Adam Mickiewicz – the Polish iconic bard who believed strongly in a free, multicultural Poland and was one of the most important poets of European Romanticism.
AMU is one of the largest academic centers in Poland. In addition to its facilities in Poznan, it has campuses in Gniezno, Kalisz, Pila and Slubice. The University currently employs nearly 3,000 teaching staff, including 370 tenured professors, 800 AMU professors and over 1,700 doctors and senior lecturers. Since 2002 our professors have coordinated or have been partners in numerous research projects funded by the European Union Framework Programs for Research and Technological Development and other EU/international programs.
AMU is strongly dedicated to creating high-standard educational opportunities. The University serves over c. 37.000 students with 15 faculties offering BA, MA and PhD programs. Students who know Polish can choose from over 228 majors. The newest programs include: Analysis and Data Processing (in Maths and Computer Studies), Cultural Differences and Transnational Process (in Ethnology), Theories-Interfaces-Technologies in English Linguistics (Modern Languages)
AMU offers BA and MA programs taught in Polish, English, Dutch including courses in 40+ languages. Individually supervised PhD programs are offered in English and other languages upon separate arangements.
AMU has well-developed foreign relations and co-operates with about 350 universities across the world under bilateral agreements. AMU is a member of: UA – European University Association, EUCEN – European University Continuing Education Network, The Compostela Group of Universities, The Santander Group – European University Network: EUPRIO-European Universities PR and Information Officers and others.
A Dozen Reasons to Study at AMU in Poznań:
Supreme academic expertise
Competitive price
Central location: halfway between Berlin and Warsaw; most European capitals accessible within 2 hours by plane!
Multicultural environment: 78 nationalities represented at AMU
Student-friendly city: on average every fourth citizen of Poznań is a student! Some 37.000 of them study at AMU!
Poznań is a vibrant business center offering career opportunities for students, Poznań region enjoys one of the lowest unemployment rates in Poland
Comprehensive academic offer: AMU has been consistently ranked among Top-5 universities in Poland for the last 10 years!
Large number of professional full-time academic staff
Advanced research opportunities: international projects including Horizon 2020 and many others
Handicap-friendly program: AMU has the largest population of students with disabilities in Poland!
Easy access to culture: "Poznań Philharmonic Orchestra performs in the AMU Main Auditorium, Poznan Opera House just across the square, National Museum 10 minutes away by foot!
Exciting sports program to follow in 30+ disciplines!
AMU PreMed and PreTech Programs
Foreign students wishing to improve their knowledge and skills in natural sciences before they apply for their medical studies may choose a a two-semester PreMed Program. It prepares for the interview and entrance exams at Poznań University of Medical Sciences (PUMS) as well as other medical programs in Poland. On the other hand, the PreTech Program is an engineering course offered and designed to enable students to approach technical and engineering degree programs with more confidence and prevent them from dropping out after the first year. Apart from courses in various natural and technical sciences both programs provide candidates with basic skills in Polish and improve both medical and technical English vocabulary.
PreTech covers fundamental subjects for a majority of engineering and technical studies.
AMU also offers a 6-month and a 1-year General English and English for Academic IELTS course as well as preparatory Polish Language and Culture courses.
Facts & figures
Founded in 1919
3 000 academic staff
c. 37 000 students
over 700 foreign students
Contact
Adam Mickiewicz University in Poznań
address: ul. Wieniawskiego 1, 61-712 Poznań, Poland
phone: +48 61 829 43 85, +48 61 829 44 75

International Exchange Advisors:
karolina.choczaj@amu.edu.pl
joanna.domagala@amu.edu.pl
knatalia@amu.edu.pl
welcome@amu.edu.pl

Study in Poland coordinator:
marcin.witkowski@amu.edu.pl
www.international.amu.edu.pl