Colett Neumann from Germany, Hoh Hong Huat from Malaysia, Alona Nad from Ukraine and Abnoos Moslehi from Iran are the winners of the 3rd INTERSTUDENT Competition- the competition for the best international students in Poland organized as a part of the 'Study in Poland' program. The INTERSTUDENT Competition is organized under the honorary patronage of Professor Wiesław Banyś, President of the Conference of Rectors of Academic Schools in Poland (CRASP). Learn more about the laureates of the 2012 edition. Next year, this can be you!
Bachelor Studies Category
COLETT NEUMANN (Germany)
University of Zielona Gora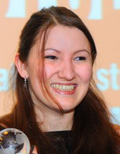 Colett Neumann is currently at the second year of pedagogical studies at the University of Zielona Gora, where she actively contributes to the Polish- German integration on the academic, social and cultural levels. She takes part in a research project titled 'Student Companies – Polish and German Perspectives' organized with Magdalena Brzozowska. She is involved in preparations for the academic conference organised as a part of a cycle of Polish-German meetings coordinated by the professors from the University of Warsaw and the Leipzig University.
She volunteers at the Academic Society of Voluntary Pedagogues, as a member of which she organized and coordinated charity events- to give the Christmas fundraiser for the scholarships for children from unprivileged backgrounds and a winter party for children from a local kindergarten as one of many examples. Both undertakings proved Colett to be a creative person with highly developed organizational skills and a huge heart.
In her free time she teaches German while improving her Polish. She is confident using Sorbian and acts to preserve the Sorbian culture and traditions in Germany. As a student she is successful working both individually and in groups. She participated in an international conference 'Children's Pedagogy: Theoretical Perspectives versus Practice' and in numerous pedagogical workshops.
Her supervisor- Prof. Inetta Novosad from the Faculty of Pedagogy, Sociology and Health Studies at the University of Zielona Gora describes Colett as a determined, reliable person. Always prepared for class, she often draws from resources extending beyond the curriculum. With enthusiasm, she always strives to contribute to the academic environment not only on a research level but also socially.
Master's Studies Category
HOH HONG HUAT (Malaysia)
Collegium Medicum, Jagiellonian University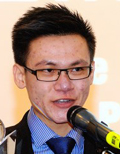 Hoh Hong Huat arrived in Poland in 2009, currently he is on the 4th year of the MD Medical Program at the Jagiellonian University. He had been awarded for his accomplishments before starting a university degree. In 2007 he received a title of the best student of the year of the Yoke Huan Secondary School in Malaysia, a year later he was given a scholarship sponsored by the Malaysian Government.
Since his first year at the Jagiellonian University he showed exceptional academic capabilities. Thanks to excellent anatomy test results he was among 3% of the students exempted from the final anatomy exam. According to Jerzy Walocha, Professor at the Faculty of Anatomy, Collegium Medicum at Jagiellonian University, during class Hon Hong Huat shows exceptional enthusiasm and motivation for studying. His enthusiasm is contagious and encourages other student to go that extra mile in their academic efforts.
He was a representative of the university at a national anatomy contest Golden Scapula. In 2012, during an International Medical Students conference in Cracow, he received the first prize for a poster session. Moreover he participated in a summer research programme at the University of Lausanne and is an active member of the Student Research Society in the cardio surgery section where he is a head of the project concerned with the aortic aneurysm. He is also active in the International Federation of Medical Student Associations.
He consequently strives to apply the theoretical knowledge gained at the university in a practical setting. At dr Dotto's lab at the University of Lausanne he worked on a project concerned with racial differences in skin cancer susceptibility, currently he is a research assistant at the CM Transplantology Department of the Jagiellonian University.
Professor Jerzy Walocha emphasized both Hoh's charming personality and strong academic discipline, thanks to which he continues gaining his peer's and tutors' respect. He makes people feel comfortable. Undoubtedly those virtues are desired in every future doctor.
Doctoral Studies Category
ALONA NAD (Ukraine)
AGH University of Science and Technology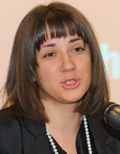 Alona Nad from Ukraine is currently at the fourth year of doctoral studies at the faculty of Mining and Geoengineering of AGH University of Science and Technology in Krakow. Her adventure with studying in Poland started in 2005 when ,while studying at the Donietsk National Technical University ,she started learning Polish at the Polish Technical Department. As one of the best students at PTD, she continued her language education at the summer school in Rzeszow to, in 2007, win a Scholarship sponsored by the Government of Poland and start a semester at AGH in Krakow.
Studying simultaneously at the Donietsk National Technical University and AGH she managed to get a master's degree from both universities. She was the first student to achieve this goal in the time-span of the cooperation between AGH and DNTU. It proves her impressive determination and great ambitions.
After obtaining her postgraduate diplomas, she decided to continue education on a doctoral level at the AGH, where today, as a doctoral student at the Faculty of Mining and Geoengineering, she enjoys many academic successes. She has got twelve publications in Polish, Ukrainian, Czech and Russian scientific notebooks. She is active in a Scientific Society AGH Pro Futuro and has been sitting at the organizing committee for the International Conference of Young Scientists for the last two years.
Apart from her own research work it is worth mentioning, she is equally active in her quest to help other international students who, just like her a few years ago, came to Poland searching for Education. She is a curator for a group of students from the Polish Technical Department, who participate in a dual Master's program between AGH and DNTU and the intern-scientists from Russia and Ukraine.
To be able to use her knowledge in practice she interned at three processing plants in KGHM Polska Miedź S.A., currently she works as a researcher for the Instytut Metali Nieżelaznych in Gliwice
Prof. Aleksander Makiejew, dean at the Polish Technical Department at the DNTU judges Alona's motivation and perspectives very highly. Alona has never stopped to maintain relationships with her home university in Ukraine. She does not solely care about her personal interest, but makes a lot of effort to bring cultural, scientific and didactic cooperation between AGH and DNTU.
Jury's Special Prize
For integrative efforts and exceptional academic achievements.
ABNOOS MOSLEHI (Iran)
University of Warsaw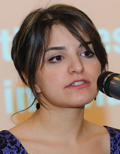 Abnoos Moslehi has been studying at the Faculty of Psychology of the University of Warsaw since 2010 and can pride herself with many successes on social and academic fields. She is involved in actions and projects aiming at developing consciousness about Iran, its culture and political situation among Polish people. She demonstrates great sensitivity to the needs of other people and social problems touching them. As a researcher, she co-worked at a research work on homosexual marriage in Poland. She participates in a Neuropsychological Rehabilitation course, as w part of which, in cooperation with other students, she helps in the rehabilitation process of polish patients suffering from aphasia- a language disorder linked to brain damage.
Abnoos eagerly engages in projects extending beyond the curriculum. Neurology, Neurobiology and Clinical Neuropsychology are true passions of hers. In order to gain knowledge and experience in those fields, she is working as a research assistant at the Necki Institute of Experimental Biology, Polish Academy of Sciences, where she participates in research using functional magnetic resonance. She took part in a conference on developmental dyslexia.
She has been consequently learning Polish in order to be able to use it both in her private and professional life. Thanks to the above, she can communicate with patients in Polish, therefore proving to be extremely sensitive to their needs and condition. Except for her scientific activities, she aims at spreading the knowledge about the Bipolar Disorder. She is a columnist for an Iranian newspaper Salamat, where she writes about psychological and psychiatrical conditions and is currently translating a book titled 'Bipolar for Dummies' from English to Persian.
Proffessor Emilia Łojek from the Faculty of Clinical Psychology, Psychology Department at the University of Warsaw is impressed not only with the academic activities of Abnoos, but also her extracurricular social and cultural undertakings aiming at the integration of Poland and Iran.