If you want something more than just a perfectly matched field of study, universities with years of tradition, reasonable costs of studying and living you have chosen the best option.
Gdańsk is the place for you!
Gdańsk is the biggest and oldest city in the north of Poland, the capital of the region and the leader of Gdańsk Metropolitan Area.
The city with its dense network of flights offers approx.50 domestic and international connections from Lech Walesa Airport Gdansk. Every year thousands of tourists come here from Poland and the whole world to visit the city and relax on beautiful, broad, sandy beaches. Gdańsk is known not only for its inspiring history. In its closest surroundings you can find wide forestlands, parks and scenic hills.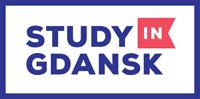 Gdańsk is also one of the most significant academic centres in the north of Poland. Among almost 500 thousand inhabitants over 80 thousand of them are students! The most representative groups of students from abroad come from: Ukraine, Russia, China, Turkey, Saudi Arabia, Spain, Belarus, Germany, Sweden and Italy. In Gdańsk you can find universities with dozens of years of academic tradition.
But Gdańsk is not only a perfect place to study. In your free time you will not get bored. The city has rich culture to offer. Every year many concerts, shows and festivals are held for thousands of young people. There is also something interesting for sport freaks. Running, sport events on the beach, surfing, sailing, horse and bike rides in Tricity Landscape Park or maybe a thrilling ride on a 200 metre zip line hung up 30 metres high inside the "amber" football stadium Stadion Energa Gdańsk?
Gdańsk offers everything you need. That is probably why many of our graduates decide to stay here for longer and settle down.
Visit our website: www.study-gdansk.com
If you are visiting Gdansk for the first time you should definitely see:
St. Mary's Basilica – the largest red brick gothic church in the world
Neptune's Fountain
The Crane located on the Motława River
Amber Museum
Westerplatte – the place where World War II began
Oliwa Cathedra– the longest church in Poland with its monumentaorgans
European Solidarity Centre with its famous Permanent Exhibition
Wisłoujście Fortress
PGE Arena Gdańsk footbal tadium – the largest "amber" in Gdańsk.
There are 6 big public universities in Gdańsk:
and 9 private universities.
Gdańsk. Your space for development:
located in the middle of Europe, easy to get to by air, ship, train, coach or car
great academic and science centre in Poland
the best place for living with a variety of attractions
wide choice of culturaevents
one of the largest workforce markets in Poland
with its metropolitan area Gdańsk offers approx. 150 thousand of enterprises and companies and over 3000 foreign investors
over 50 retaicentres and malls
settlement of BPO/SSC/ICT centres of over 30 leading internationacompanies
over 20 thousand specialists working in internationacompanies related to IT services and R&D centres
fast growing base for development of start-up's in IT, biotechnology, pharmaceutics and other life-science sectors